Welcome to the newly launched website for the Chapleau Cree First Nation Community Trust.
As you likely know, and as you can see elsewhere on the site, the Trust has an underlying responsibility to support our community through what are called the 'purposes of the Trust' including, health and wellbeing, culture, education, community development and education.
As you may also know, the Trust has been 'locked up' for 5 years after formation to allow growth and this is the first year in which the Trustees have been able to access the income of the fund to support the purposes named above. The launch of our new website provides us with a platform to communicate with members and launch Requests for Proposals (RFPs) to members and fund work towards the purposes of the Trust.
Our new Logo and Website Address
Firstly, we would like to back up and tell you a little bit about our new logo and brand. You will see in the top left corner of the website the "I am Cree" logo. So you may be asking what that is all about when we are formally called "Chapleau Cree First Nation Community Trust". Well firstly, as you can see and feel, that doesn't actually roll off the tongue as simply as something like "I am Cree", and, it is a lot to be typing into a browser or search engine so we wanted something shorter. Secondly, we debated quite a bit between "I am Cree" and "We are Cree" which is more inclusive. We decided that many of us are on a personal journey to regain our culture and we ended up choosing I am Cree as a testament to our personal journeys. I am sure that you have recognized that the logo is both a symbol of an indigenous person, possibly with wings, and the stylized letters C R E E, and so this concept has become our website name (the URL iamcree.ca), our 'brand', our logo all in one. We hope you like it.
Our Inaugural Project and RFP
Next, we would like to introduce our first Request for Proposal soon to be issued to our members. The Trustees spent considerable time doing a review of what our community needs are and we considered doing a survey of members which we still may do in the future to determine the priorities for our membership. We did spend a lot of time reviewing a previous study done for CCFN Community Development in 2010 which offered some insight into priorities identified at that time, none of which were too surprising. At some point, we determined that we require some 'foundation' upon which we can continue to build. The idea of documenting our Treaty Land Entitlement Journey surfaced as that foundational work. Funding a project to document how Treaty 9 was signed, the establishment of Chapleau Cree, our negotiations and the eventual settlement, the per-capita distribution to members and the formation of the Trust for future generations seemed to be a great foundation from which we can build on to delivery further priorities that align with the purposes of the Trust.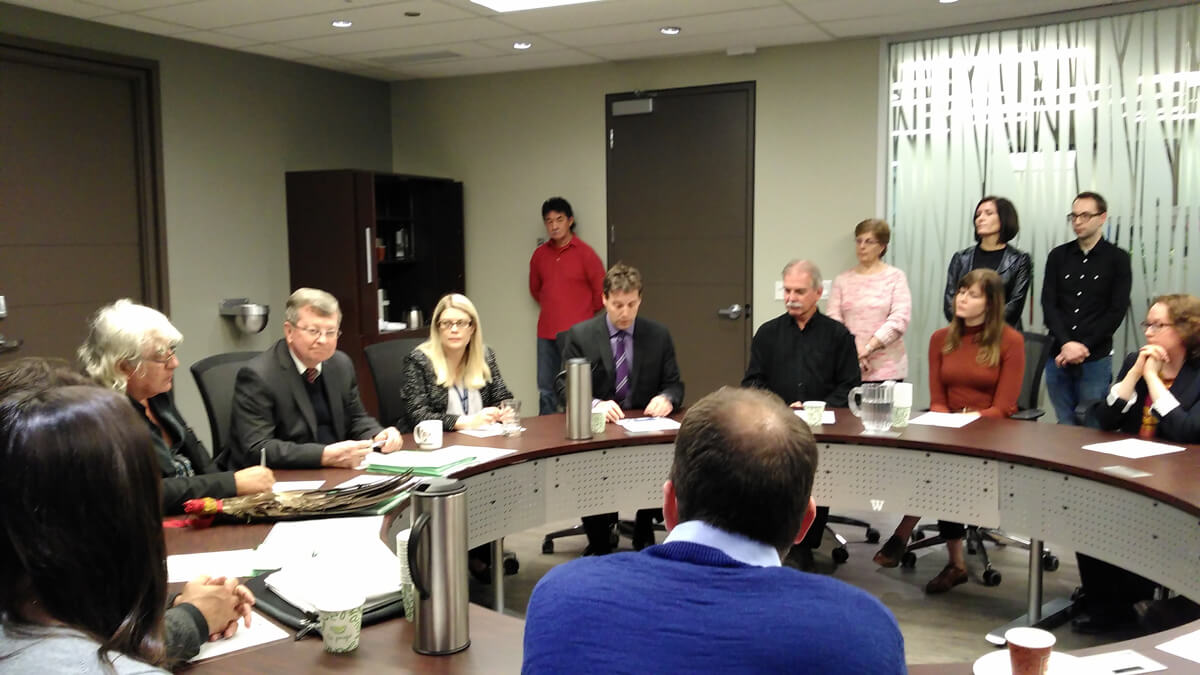 Chief Corston and the TLE Committee at the preliminary signing of the TLE Agreement in Toronto with Ontario and Canada on November 27, 2015
You may know that there was a DVD video produced as an outcome of our settlement which was distributed to members and that can be a good resource, but we are also looking for more depth and creative ideas that can be proposed that both educate and inform members about more of our Band's history and journey, possibly from Moosonee to Chapleau, and then to our Fox Lake Reserve and our new settlement lands. Having said that, the RFP is open to creative ideas about how you would propose to document and capture our journey for the benefit of future generations.
While we will issue another post, specifically on this topic, we want to introduce it here. We, the Trustees, can and will evaluate the response if required since that is our responsibility under the Trust, we would like to broaden and diversify the evaluation by welcoming a member-based evaluation committee with greater representation. If you know now that you would like to participate or be considered, please fill out the "Contact Us" form on our website and state your interest in the evaluation committee and we will include you in that process. Depending on the level of interest, we may include all that apply or we may need to randomly select a subset of those interested.
Your Feedback is Welcome
You can also feel free to use the Contact Us form to provide any feedback on the website, on future project ideas or anything else you would like to share.